LLV TAHITI CRUISE 2022
17th thru 25th of March
Inside Stateroom - F | G
Beautifully re-designed with a modern flair, these private retreats boast 160 square feet of luxury. Highlights include a comfortable seating area, vanity desk, refrigerated minibar and plenty of storage. The ingenious use of space is complemented by the re-inspired decor.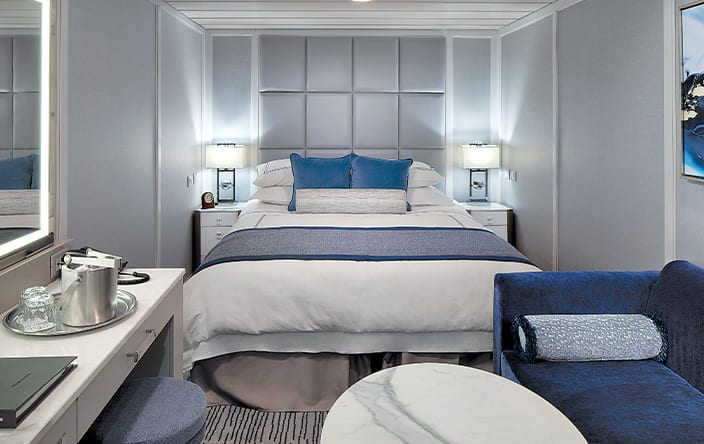 Ocean View Stateroom - D
The light from a classic porthole illuminates the stunning decor in these 165-square-foot staterooms, tastefully designed to maximize space and convenience. Enjoy a comfortable seating area with a sofa on which to stretch out, as well as a vanity desk, breakfast table and refrigerated mini-bar.

Deluxe Ocean View Stateroom - C1 | C2
With entirely re-designed closets, dressers and vanities, these 165-squarefoot staterooms feel even more spacious. generous seating area, vanity desk, refrigerated mini-bar and breakfast table are perfectly complemented by the soothing hues and stylish fabrics of the sleek new decor.
Veranda Stateroom - B1 | B2
Custom-crafted furnishings, exotic stone finishes, supple upholstered headboards and chic lighting are just a few of the enhancements within these 216-square-foot staterooms that also boast our most popular luxury – a private teak veranda for watching the ever-changing panoramas. Conveniences within each stateroom include a vanity desk, refrigerated mini-bar, breakfast table and spacious seating area.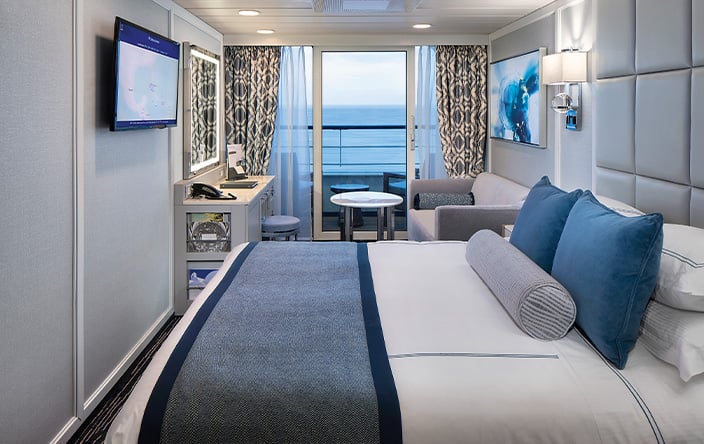 Concierge Level Veranda - A1 | A2 | A3
Upgrade Your Experience
Located in the most desired of locations, Category A Concierge Level Veranda Staterooms offer an unrivaled combination of luxury and value. A wealth of amenities and a host of exclusive privileges (listed below) elevate the experience to the sublime. You will even have the services of a dedicated Concierge+
These luxurious accommodations feature a wealth of amenities, including many of those found in our Penthouse Suites. These tasteful 216-square-foot staterooms offer a private teak veranda, refrigerated mini-bar and plush seating area, as well as the added luxury of exclusive Concierge Level amenities and privileges.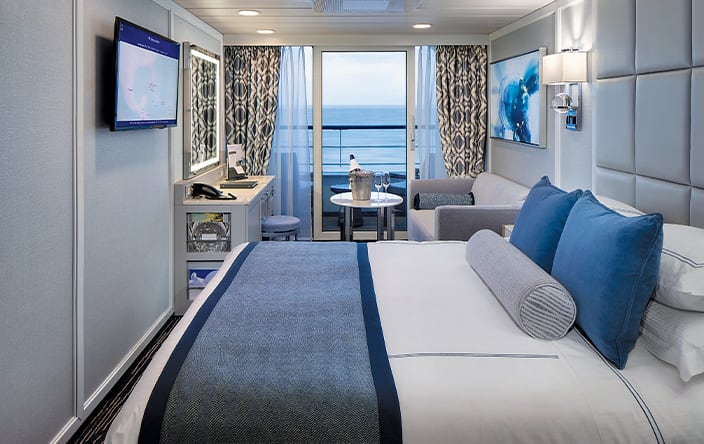 Vista Suite - VS
Named for their sweeping views over the ship's bow, the four Vista Suites each sprawl over 786 square feet. Every creature comfort is here, including a second bathroom for guests and a private teak veranda. Listen to music in enhanced surround sound, or watch a DVD on one of the two flat-screen televisions.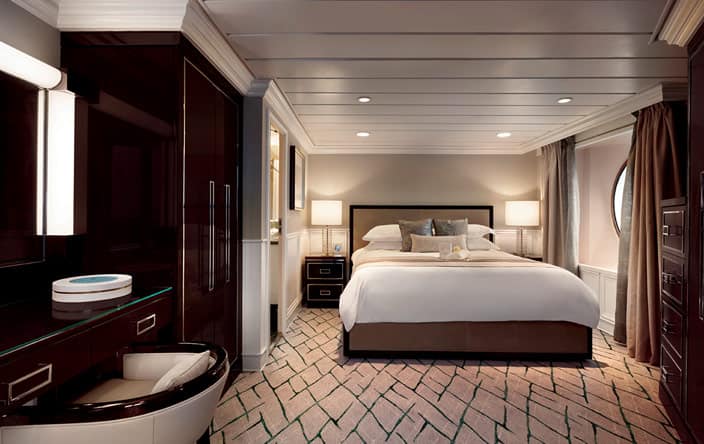 Owner's Suite - OS
Immensely spacious and exceptionally luxurious, the six Owner's Suites are among the first to be reserved by our discerning guests. Spanning nearly 1,000 square feet, these magnificent suites are fit for royalty. Every imaginable amenity is found here, including sumptuous bathroom with a lavish oversized shower, a private teak veranda, two flat-screen televisions and an iPad® for your personal use.